ESPN Labs: ESPN Connect Social Sports App
In the Labs
Projects we've been working on, tossing around and mulling over
What
Credits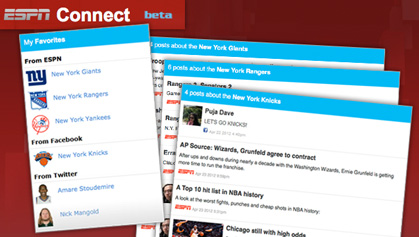 Born from ESPN's 2011 employee Hackathon, ESPN Connect is a quick and seamless way to pull together your sports fan preferences and news from across the web.
Link your Facebook, Twitter, and ESPN accounts to load your favorite teams and players from all three sources, generated from your likes and follows. Connect loads an uber-feed of content for all of your favorite teams and players from ESPN and your Facebook and Twitter feeds.
As we continue to build on this idea we may integrate more social media sources like foursquare and Pinterest, so your sports fandom across the web can live in one place!
Our API in action
(Pulse)

(foursquare)